Floating Solar panels could be the solution to protecting retention ponds and other man made water sources from excess evaporation as well as provide a source of energy generation in the process.

With farmers becoming more apprehensive for rain as drought like conditions continue to move across southern Ontario. Floating Solar Panels may be the out of the box solution they are looking for.
WaterWorld Editorial Staff     Published July 11, 2016

Floating solar systems can reduce evaporation and shade the water, slowing algae growth.
[bctt tweet="Get easy solar now!" username="via GrasshopperSolar"]
In addition to solar on land, SPG Solar floats solar power systems on water. The company's Floatovoltaics® technology means that, "Water agencies and wastewater treatment plants can now take a holistic approach to their solar solutions," said SPG Solar CEO and President Chris Robine. "A hybrid solar power system built on water and land not only conserves land space but provides water and environmental benefits while generating clean, renewable and more affordable electricity."
Water agencies can look to another provider of liquid sustenance wineries for an example of putting water assets to work to reduce energy costs. At a Far Niente winery in California's Napa County, a combined 477 kilowatt land and floating solar system has been running successfully for the last three plus years on a retention pond.
"We were looking for a creative solution to install solar but not have to take up valuable vineyard land. SPG Solar Floatovoltaics® provided us the opportunity to offset 100% of our electricity needs and requires minimal maintenance," said Larry Maguire, chief executive of Far Niente winery.
In addition to power generation, the system has helped significantly reduce algae growth and evaporation in the retention pond.
SPG's floating solar power system is designed for installations on fresh water surfaces, ranging from ponds and lakes to reservoirs and water storage ponds. By floating solar on one square acre of water in California, 500,000 kWh of renewable energy can be produced.
The proprietary system mounts solar panels on a racking system, floating on pontoons and secured by a mooring system. For durability and longevity, the systems are engineered to keep all metallic components above water, leaving only closed HDPE plastic floats in contact with the water. The floats have been approved for use in drinking water reservoirs. The floating system is engineered to withstand 85 mph winds and change in water levels.
At a winery in California's Napa County, a combined 477 kilowatt land and floating solar system has been running successfully for the last three plus years on a retention pond.
Floating solar is cost competitive with roof and ground-based single-axis tracking solar systems and uses the same commercially available solar panels. Similar to land-based solar, the floating installations qualify for federal and local grant and incentive programs.By installing solar panels over a pond, the panels are naturally cooled, resulting in improved power production performance. The cooler environment also reduces stress on the system, extending the system's lifespan.
Aside from generating power, the systems also provide other environmental benefits. As an example, the SPG system shades the water and can reduce evaporation by up to 70%. A 3-acre storage pond covered with solar panels could save over 4 million gallons of water each year.
The systems can also improve water quality. As water bodies are exposed to the sun, photosynthesis promotes growth of organic matter, including algae. By shading the water, algae growth is reduced, minimizing the associated treatment and labor costs.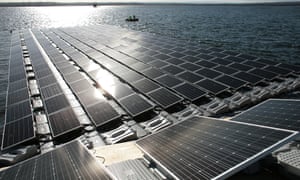 Construction of Europe s largest floating solar panel array on London's Queen Elizabeth II reservoir. Photograph: Martin Godwin for the Guardian